Enjoy the FIFA World Cup from the comfort of your stylish, redesigned Shanghai Apartment
Update:2014-06-14 11:36 Views:
Redesign Success Story at Lakeville Regency

If you are an expat living in or moving to Shanghai you have the chance to enjoy a cosmopolitan lifestyle and live in a luxurious high quality apartment – like a less corrupt version of the Wolf of Wall Street. Complexes like Lakeville offer unrivalled security with expansive health club facilities in an unbeatable location for expat executives and families. Our team at Townscape Housing can not only help you to find a nice apartment, but also to redesign it to your tastes.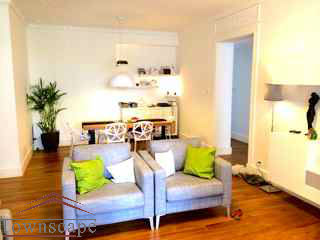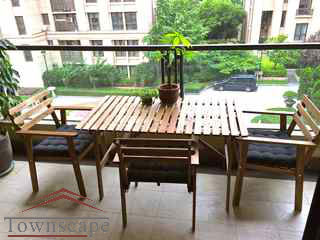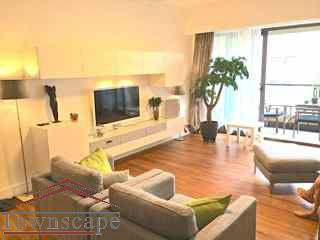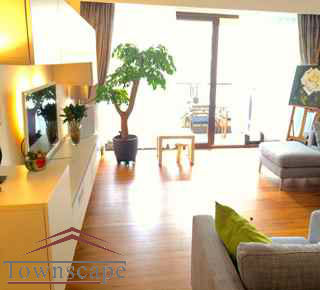 Lakeville Regency: "I LOVE the complex, but the style…."

We hear this time and time again from our clients so we decided to take action and solve this problem! In Lakeville Regency and many other expat complexes in Shanghai, the style and décor of the individual apartments is extremely incompatible with modern international tastes. Despite the great view, flashy appliances and spacious floor plan, expats often have the impression of living in another time zone because of the old-fashioned style. The well-designed apartments are few and far between and tend to be snapped up at twice the price (you can thank Shanghai's housing bubble).

The good news is that our team at Townscape Housing can help you transform an outmoded apartment into a modern and sophisticated home that will be a pleasure to retreat to. A recent redesign project at Lakeville Regency showed just how much can be accomplished in very little time and with minimum cost to your wallet. In less than a month, our team worked together with our contractors and clients to completely redesign an 183square metre apartment from an antiquated abode to luxurious living quarters at an affordable price.

The original apartment was dark and musty, furnished with regel pieces that gave it a very rigid and unwelcoming atmosphere. The tenants felt like they were imposters living in somebody else's house. Unfortunately, 90% of Lakeville Regency apartments have similar décor.

Despite the décor, everything else about Lakeville was perfect for the customer; the central location in Xintiandi, the quality build, the extensive services, the thorough security, the comprehensive facilities, the English-speaking management, and the great price. The good news is, we can help you to redesign your Shanghai apartment!

Expat redesigned apartment: "Is this really the same apartment??"

Yes! Now the tenants enjoy all of the perks of Lakeville, in an apartment tailored to their own tastes and preferences. The new apartment is bright, modern and stylish, with interesting design features and practical elements – just the way they like it.

Redesigned Apartment before and after: The Proof!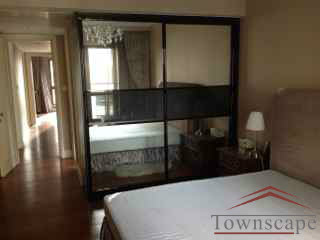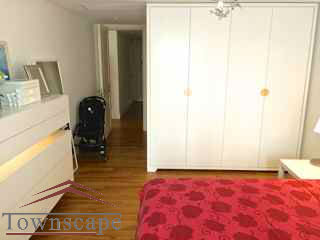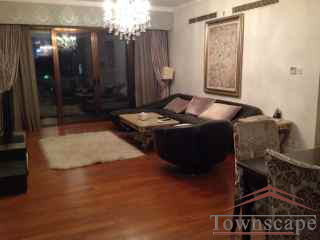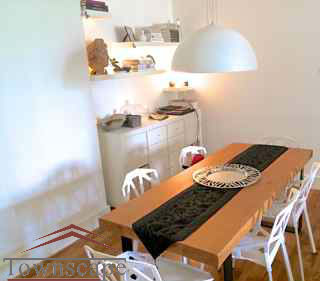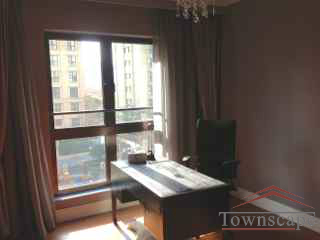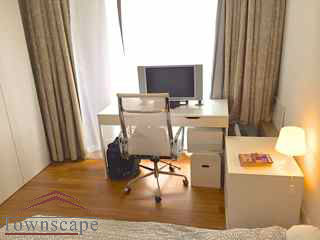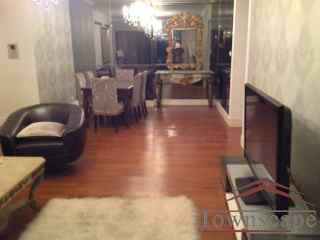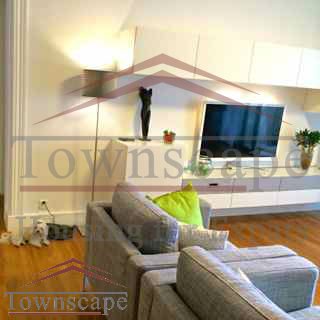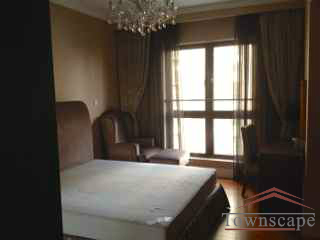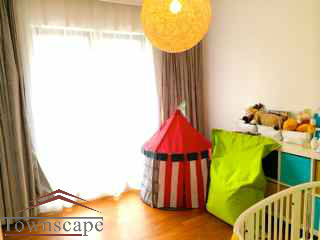 What our tenants say about expat housing in Shanghai…

"Shanghai expat real estate is overwhelming!"

Choosing an apartment in Shanghai, or anywhere, there are a number of important variables like location, price, floor plan, price or view. The problem many expats find in Shanghai is that even if all of these variables align with their preferences, the apartment is an eyesore, having been decorated and furnished in a different time, by different people from different countries and with a completely different idea of what is aesthetically pleasing or stylish.

Where to live in Shanghai: "It's hard enough finding an apartment in a good location, let alone a stylish one"

While most variables are fixed, the style and design is surprisingly flexible and our team at Townscape Housing have shown our ability to manage the complete transformation of an apartment in less than a month. This ability means that residents can take style, furniture and design out of the equation when looking for an apartment and focus on factors like location - resting easy that we can help clients turn any apartment into a dream home when it comes to its design. As you can see, this transformation really was like an episode of 'My House my Castle' or 'Renovation Realities.'

Redesign your Shanghai Apartment: "Is redesigning an apartment a realistic option?"

Don't be put off from otherwise perfect apartments because you (naturally) don't share the same taste as the landlord. We want to draw attention to the fact that this does not have to be a barrier to choosing a suitable apartment, it is a common problem, that we can help you overcome. Landlords are starting to realise that it is to their advantage to let tenants modernise their apartments. The redesign, storage of furniture etc. will be negotiated on a case-by-case basis; luckily we have great local knowledge and negotiators to help you deal with the landlord.

Real Estate and Redesign package: "How can you help me redesign my Shanghai apartment?"

If you like what you have seen, get in touch with us and we can talk about creating your ideal home in Shanghai within your taste, budget and time frame. The apartment redesign process is highly flexible and the way we go about it can be completely tailored to your needs and preferences. Some clients want to be a big part of the process and make a lot of design decisions themselves, whereas others prefer to hand the project over to the professionals and just enjoy the end result – we are happy for you to decide the role you want to play in the process.

Shanghai Landlords: "Is redesigning the landlord's responsibility?"

Individual landlords have different views of their responsibility in the redesign and refurnishing process. Typically redesigning costs in Shanghai apartments are the responsibility of the tenant though the landlord may help by paying for removal and storage of their furniture for example.

Lakeville Regency Redesign Project: "Can you walk me through the redesign process of this apartment?"

The dining area went from a formal and rigid corner to a spacious, light and inviting space. We added a storage unit for handy access to table settings and replaced the table and chairs in favour of a light wood table and designer chairs.
The deck area also got a mini makeover with a new table and chairs so that the tenants can enjoy the outdoor area.

We transformed an adult bedroom into a fun playroom for the tenant's youngest member – he didn't really appreciate the chandelier or double bed! Now their child has a fun and bright playroom with great storage and lots of space for games and toys.

In the living area it was out with the old, in with the new. Out with the dark old couches and antiquated drapes and cushions and in with new bright and comfortable pieces. Now the family can relax on furniture that suits them and enjoy the FIFA World Cup on a modern TV with international satellite from a comfortable and stylish couch.

Whereas the previous area had very little storage, and most items were on display (not ideal for kids), the family can now make the most of the added storage unit and keep the area uncluttered. It provides the option to have nice things on display and other items behind closed doors.

The tenants love their new custom built wardrobes that make the room feel lighter. The simple, chic design in a clean white colour really lifted the room. With all of the great shopping in Shanghai and the overloaded suitcases from home storage is important aspect for expats in Shanghai!

The office was refurbished with modern and light furniture and the heavy velvet curtains were replaced in favour of a more interesting and neutral set. With the office transformation, working overtime is much more enjoyable! Now the tenants enjoy the view and the sunshine while working from home and even managed to add an extra sofa bed in case they receive guests.

Apartment Redesign pricing: "What about the cost?"

The extent of the redesign is entirely dependent on your budget and preferences. For the price of a couple of months rent we can help you to completely transform the look of the apartment including floor, roof, furniture, lighting and decoration. If you are working on a tighter budget, we can help you to prioritise the areas that need attention; you will be amazed at the difference you can make just by replacing the lounge suite and adding a new coat of paint.

Interior Designers in Shanghai: "But I'm not a designer…"

If you have a clear idea of the style you would like, we can facilitate the process of buying furniture, and contracting workers with you at the head of the design process. If interior design is not your forte, we can use other projects as templates or help you find the right interior designer in Shanghai to achieve the result you are looking for. We have a proven track record of client satisfaction after the redesign.

Our team of English speaking realtors: "At what stage does your team get involved?"

Choosing Townscape Housing as your real estate agents, means that an experienced member of our team can help you throughout the entire (daunting) task of exploring the Shanghai real estate market; viewing a variety of apartments, finding a match with your budget, location and daily needs and then if need be helping you tailor the apartment to your design preferences. We have the flexibility to help you at any or every stage of the relocation process.

Relocating to Shanghai: "Why should I go to you for help and not a professional design team?"

The advantage of coming to Townscape is that we offer a holistic approach to relocation. Instead of negotiating and meeting with a host of different companies we can do all of the hard work for you and make sure that you are getting a good deal. Our team is made up of local Chinese and foreigners so we are experts when it comes to combining local knowledge and experience with western preferences and taste and can help you overcome common communication barriers many expats experience in Shanghai.

More about townscape housing…

Our experienced English-speaking consultants will provide you with an all-inclusive housing service. Before we even start looking at places to rent we will help you get to know Shanghai with our comprehensive orientation including potential schools for your children, clubs, associations of your interest, and more. After you get settled into your new home, we will be there to ensure everything goes smoothly for you throughout your time and help you through any unforeseen problems.

If you are interested in relocation or redesign services at Townscape, get in touch with our team for a free consultation. You can call us anytime:

Company landline:
51619783 - Shanghai landline and mobiles - 24/7!
021 51619783 - Out of Shanghai numbers - 24/7!
+8621 51619783 - Overseas - 24/7!

Or visit our website:
http://www.townscapehousing.com
Online request or enquiries:
http://www.townscapehousing.com/enquiry.html

Email: [email protected]
Whatsapp: 18021007480
Skype: townscaperealty

Whatever you need, name it, we'll find it!
We have thousands of properties including apartments, lane houses, garden houses, villas and offices available in old town, downtown area, Jing'An temple, Nan Jing road area, Xin Tian Di area, Huai Hai rd area, Xu Hui area, Zhong Shan Park area, or places in close proximity to international schools in Pudong & Puxi and rest of Shanghai.